AC Input Reactor (
ACR

)

Products introduction:

Line and Load Reactors

Line reactors (sometimes called line chokes) are a common power accessory for electronic variable speed drives. These components add an extra margin of protection for AC and DC drives.

Line reactors used on the input side of a drive

protect the AC drive from transient overvoltage conditions typically caused by utility capacitor switching. Input line reactors also reduce the harmonics associated with AC drives, and are recommended for all installations.

Production Application

• Help meet IEEE 519 criteria by reducing harmonic distortion of the input line current.

• Improve input line current balance.

• Reduce nuisance drive over-voltage trips cause

dby

transient voltage spikes and power line notches.

• Protect input rectifiers from in-rush current cause

dby

sudden power line surges and sags.

• Extend the life of the DC bus capacitor bank by reducing the internal heating caused by

ripplecurrent

.

• Protect motor windings from long lead effects when used on the drive output.


Particularly apply of line reactor to the following cases:

1. Multiple frequency inverters in close parallel connection

2. Other devices produce interference to line power supply ( disturbance. Over voltage)

3. Non balance among phases of line power supply 1.8% over than of the rated voltage)

4. Massive frequency inverter installed in the same grid.

5. Reduce

CosØ

and correct the overload capacitor, in case the power factor correction device are installed in system.

Technical Specification: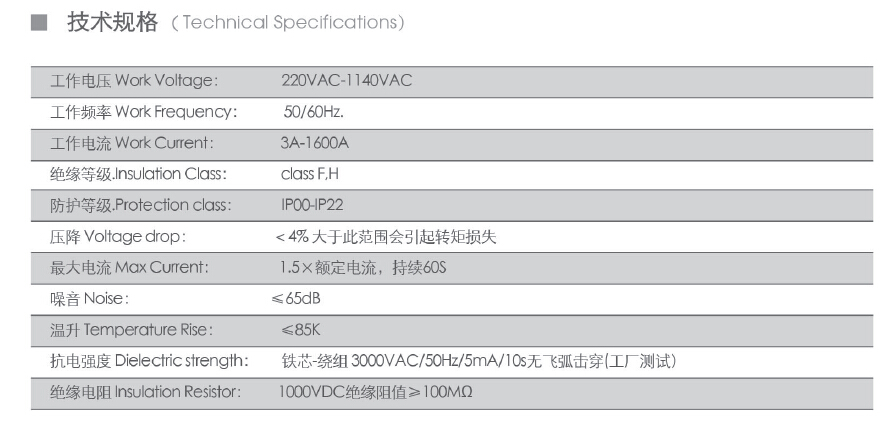 Work voltage:
220VAC
to
1140VAC
Work current:
3A
to
1600A
Insulation class:
Class F, H
Voltage drop:
Less than 4%,
Overload tolerance capability:
1.5% rated current for 60s.
Noise:
Less than 65dB
Temperature rise:
less than 85℃.
Dielectric strength:
steel core wiring 3000VAC/
50Hz
/
50mA
/
10s
.
Insulation resistor:
1000VDC insulation resistor ≥100MΩ.
Operation Environment:
-10℃to 45℃, rated value won't lower, when higher than 55℃, and every 1℃, the current will stop down 2%. Under sea level 2000m
No hazardous gas, no inflammables and explosives. With well-ventilated condition, ventilation devices shall be configured if installed in control panels.
AC Input Reactor